Meet the Lindbjergs
Lindbjerg Chimney is a family owned and operated business. We specialize in chimney repairs, rebuilding, and restoration. Henning Lindbjerg has fixed, rebuilt, or restored thousands of chimneys since beginning in the trade almost 40 years ago.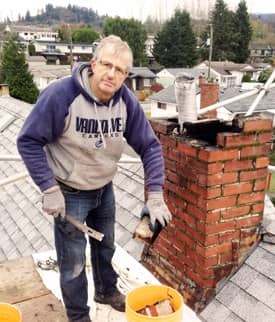 History
Henning Lindbjerg was born in Denmark and moved to Canada in 1974 after receiving his Brick Laying Journeyman Ticket with honors in the form of a Bronze Medallion. He has now been working as an expert in the trade for close to 40 years.
In 2012, after many years managing site operations for another leading chimney service, the Lindbjerg family decided to pursue an exciting new business venture with Henning in the lead, and son Daniel Lindbjerg, (who has over 15 years of experience in the trade) on the team.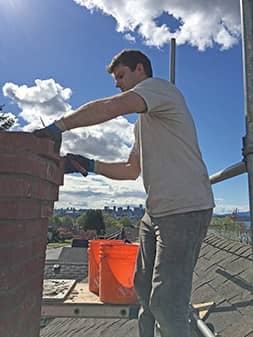 Our Chimney Services Today
We serve chimney owners across the entire lower-mainland area of BC. From Vancouver (including North and West Van) to the Fraser Valley (Abbotsford, Mission, Langley, etc).
Our services include:
Chimney Repairs
Leak Troubleshooting & Prevention
Chimney Rebuilding (Partial and Complete)
Chimney Sweep and Cleaning
Hire Lindbjerg Chimney
We are personally committed to a high standard of professionalism, safety, and courtesy in our service (including cleanliness during and after our work) and we would be glad to help you with your chimney.
We offer a complete price estimate for free so you can make an informed decision about the work to be done.
Contact Henning Lindbjerg using the Free Estimate Request Form.